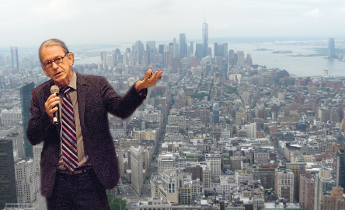 Researchers from around the world were recently gathered at Columbia University in New York City to present the newest findings of their Q10 research. Many researchers at the conference presented study findings made with Pharma Nord's Q10 products.

The conference, which took place the 21st-24th of June 2018, is held every three years, and this time took place at Columbia University in New York City. The event was organized by the International Coenzyme Q10 Association (ICQA), where Pharma Nord has always taken an active role as supporter and contributor to Q10 research.
This year the conference could celebrate its 20th anniversary, as the first conference was held in Boston in May, 1998. These past 20 years have been very rich in Q10 research, and at this conference more than 60 researchers presented their results.

The last time the conference was held was in 2015 in Bologna, Italy, where the opening tribute honored the late Dr. Svend Aage Mortensen from Denmark, one of the leading figures behind the Q-Symbio study supplementing Q10 to severely ill heart failure patients.

Frederick Crane Remembered
This year, American Professor Frederick Crane (1925-2016) was remembered by ICQA's chairman, Professor Plácido Navas. Fred Crane was the first one ever to publish an article about a quinone found in the mitochondria from beef hearts. Dr. Crane's discovery is one of the main reasons for the extensive Q10 research that the ICQA has been involved in. As the author of a number of scientific papers, Dr. Crane is quoted for saying, that if a scientific article is good, it will be read no matter where it is published. His last article was published in 2014.

Young Researchers Show Promising Research
The conference actively provided a platform for young researchers, trying to help encourage a new generation of Q10 researchers. Much of the Q10 research from the previous 20 years comes from established researchers, who have either retired by now or could be expected to retire in a foreseeable future. This platform truly showed promise of a new generation of young, skilled, detail-oriented researchers on the verge of establishing themselves in Q10 research. They may not have the same experience as the expert long-time scientists, but their insight and inspirational thinking in their specialty fields are impressive. It also appears that many of the younger researchers have chosen to deal with molecular and genetic research areas in relation to Q10.

Ubiquinone versus Ubiquinol
The most - and the more prominent - Q10 research is still done on ubiquinone, the oxidized form of Coenzyme Q10, but these days an increasing amount of research is also conducted on studying effects from ubiquinol, the reduced form of Coenzyme Q10. However it is important to remember, that much of the ubiquinol research is still performed with animal studies or minor studies with low numbers of study participants.

New Data from the Q-Symbio Study on Heart Failure Patients
In the Q-Symbio Study by Dr. Svend Aage Mortensen, 420 very sick Heart Failure patients from nine different countries were included. At the New York conference, the late Dr. Mortensen's daughter, biochemist Anne Louise Mortensen, presented data from a European sub-group of 231 patients from Denmark, Sweden, Austria, Slovakia, Poland and Hungary. The Q10 group was comprised of 108 patients, who each received 100 mg Q10 (Myoqinon) three times a day. The placebo group with uniform characteristics represented 123 patients.

Anne Louise Mortensen's analysis confirmed a similarly excellent effect of Q10 on the European part of the patient group. For example:
| | | |
| --- | --- | --- |
| Reduction of | EU-patients | All patients |
| Severe cardiac events (MACE) | 67% | 43% |
| Cardiovascular mortality | 53% | 43% |
| All cause mortality | 55% | 42% |

Bioavailability of Different Q10 Products
Spanish Dr. Guillermo López-Lluch and his team presented their new study results from the testing of seven preparations with 100 mg Q10 on 14 persons in a double-blinded, cross-over trial with a washout period of 14 days in between each test. There were six ubiquinone varieties and one ubiquinol product among the tested preparations. The study showed that the absorption of Pharma Nord's Q10 (Myoqinon) was significantly better than any of the other preparations. Some preparations showed low or practically no absorption.

In the following discussion, Dr. Littarru, one of the very experienced Q10 researchers, stated that, in theory, what the study participants ate for breakfast could affect the Q10 test results from the participants. However, in the López-Lluch trial, the participants did receive the same food after an eight-hour fasting period, and the 14 participants were a homogeneous group apart from gender differences.

Based on the conclusions from the López-Lluch study, it is not the form of Q10 that is the most important thing - ubiquinone or ubiquinol - but, much rather, it is the formulation and the manufacturing process of the Q10 product that is most important in regards to absorption, bioavailability and efficacy. After all, not only did Pharma Nord's Q10 preparation (Myoqinon) perfom significantly better than the other tested preparations, but the evenso Pharma Nord formulated ubiquinol preparation in the study also performed better than other ubiquinone preparations that were not as well formulated as Myoqinon.

Q10 and Selenium as Anti-Aging Agents
Swedish Professor Urban Alehagen is known as one of the oustanding lecturers within the research community. His research studies have shown that people with inadequate selenium status have a reduced ability to activate Q10 in their body, and there are still many people - especially in Europe – who are selenium deficient.

Dr Alehagen has published many scientific articles based on the data from his KiSel-10 study, which examined the effect of selenium and Q10 supplementation in a group of healthy seniors. Dr. Alehagen has succeeded in documenting that even after the four years, in which the participants received 200 mg Q10 and 200 μg selenium each day, the participants continued having good health outcomes (both for cardiovascular and all cause health outcomes) for many years compared to the placebo group. Therefore, it seems to be reasonable to call this an anti-aging combo for your body.

Q10 and Blood Sugar / Diabetes - the Next Big Area of Study?
As nine percent of the world's population suffers from diabetes - mostly type II (T2 DM) - it is increasingly becoming a particularly relevant research area. In fact, the ICQA has decided that in the period until the next official Q10 conference, likely to be held in Amsterdam, main focus will be on Q10's impact on diabetes on the basis of the very exciting results that previous Q10 research has already begun to show.
There are still many things to discover about Q10, and Pharma Nord will as always continue to pursue future research results.