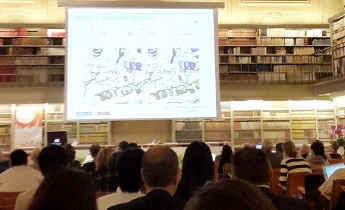 The Q Symbio study presented at the International Q10 Congress
 
PIONEERING BIOLOGICAL TREATMENT
 
The 8th International Q10 congress 2015 was held this year in Bologna, Italy, the 8th to 11th october with the participation of Pharma Nord staff from several countries. It was a conference with much focus on what happens with coenzyme Q10 at the microscopic level in the body. However, one of the issues that differed from all the theory, was the presentation of the Q-Symbio study, which demonstrated a truly ground-breaking new biological treatment that can ensure a better energy output from the heart. Another issue that stood out came from Q10 researcher Dr. William Judy from USA, who convincingly established that there is no basis for claiming that coenzyme Q10 in the form of ubiquinol is a better form than ubiquinone which to date is the active documented form of Q10.
The research on ubiquinol, which was presented at the conference consisted mostly of experiments with cell cultures and mice. A study conducted in humans showed no clear improved effect. Another study showed an improved effect of ubiquinol that previously has been shown with ubiquinone.
All in all, this 8th Conference was a little atypical compared to previous conferences by being extraordinarily much influenced by Q10s role in the body's biochemistry and especially its impact on the epigenetics, ie the phenomenon that Q10 turn on some genes and turn off others without it having to do with changes in the DNA sequence.
Dr. Judy astonished the audience
Dr. Judy who has worked with Q10 for many years, among others the renowned Dr. Karl Folkers, closed the conference with his presentation of his own research on the absorption and bioavailability of the two forms of Q10. Dr. Judy's data showed that there is no significant difference in the absorption of ubiquinone and ubiquinol and that Q10 shifts in the body from one form to the other.
Ubiquinone is still preferable
We note that there is still no clear data on the ubiquinol form of Q10 which has shown that it has a better effect that could justify the somewhat higher purchase price. The most, the largest and best research data on Q10 remains with ubiquinone - dissolved in vegetable oil, better known as Bio-Quinone Q10.