Your health depends significantly on a trace element called selenium. The only problem is, it is lacking in the Irish soil. Read on and find out how this problem can be solved.
Your immune system cannot function without it. The same goes for your thyroid gland. It even plays a role in fertility*. We are talking about selenium, an essential micronutrient, which both humans and animals need in order to stay healthy. Selenium fuels around 25 different selenium-dependent enzymes (also known as selenoproteins) that support vital biological functions.
*The European Food Safety Authority has recognized the following health claims regarding selenium:
- Contributes to a normal, well functioning immune system
- Contributes to normal functioning of the thyroid gland
- Supports normal spermatogensis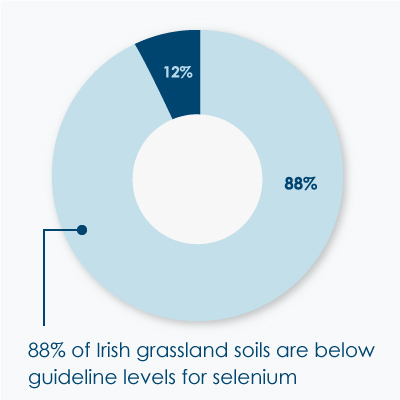 Problems with scarcity
In large parts of Europe, there is a problem with low selenium levels in the soil. This means that livestock at places where the grassland soils are below guideline levels for selenium, are not getting the selenium they need. The problem extends to humans, as well, as we consume farmed crops and meat and dairy from the animals that feed off the selenium-depleted crops.
In Ireland for example, a government report issued last year showed that the average selenium intake is insufficient for much of the population. In other words, both humans and animals in Ireland are challenged when it comes to getting the optimal amounts of this very important nutrient.
How the Finns solved the problem
In Finland, they were faced with a similar problem for decades. To solve it, the Finnish government introduced mandatory selenium-enrichment of fertilizers back in 1985 and successfully managed to raise levels of this vital micronutrient in the soil. Consequently, blood levels of selenium increased in both animals and humans. Finland still adds selenium to its agricultural soil to make sure that people get enough selenium on a daily basis.
Call for supplementation?
We humans get selenium from a variety of sources. Besides the selenium we get from plant food and dairy and meat from grazing animals, there is selenium in nuts, whole-grain, and fish. Another way to increase your selenium intake is to take a supplement. According to studies, this may have a significant impact on health.

In 2013, Swedish researchers published a study of selenium intervention among healthy but ageing men and women. 443 volunteers were randomly divided into two groups. One group got SelenoPrecise, a patented organic selenium yeast that is very easily absorbed in the human body. They also received 200 mg of Pharma Nord's coenzyme Q10. The other group got matching placebo, also known as dummy pills.
Improved quality of life
According to the study, which is published in the International Journal of Cardiology, the people in the group that got the selenium supplement had notably better quality of life and fared better by various accounts.

In Bio-Selenium+Zinc, you get SelenoPrecise combined with zinc and four vitamins that work in synergy with selenium.