| 2 tablets contain: | | | % RDA* |
| --- | --- | --- | --- |
| Vitamin C | | 40 mg | 50% |
| Glucosamine sulphate 2KCl | | 1,000 mg | ** |
| Chondroitin sulphate extract | | 800 mg | ** |
* RDA= Recommended Dietary Allowance.
**RDA: not established.
Product Facts
Directions
2 tablets per day or as recommended by a physician. To be taken with food. Do not exceed recommended amount.
Pregnant and lactating women and those on medication should seek professional advise prior to taking supplements.
Nutritional supplements should not be used as a substitute for a varied diet and a healthy lifestyle.
Storage
Room temperature, out of direct sunlight.
Keep out of reach of young children.
Ingredients
Glucosamine sulfate, 2KCl (from shellfish); chondroitin sulfate extract (bovine and fish); bulking agent: microcrystalline cellulose; dye: spirulina concentrate; L-ascorbic acid
(vitamin C); anti-caking agents: magnesium salts of fatty acids, silicon dioxide
What is Bio-Glucosamine+Chondroitin?
Bio-Glucosamine+Chondroitin is a preparation consisting of light blue tablets each containing 500 mg of glucosamine sulphate corresponding to 400 mg pure glucosamine, 400 mg chondroitin sulphate, and 20 mg of vitamin C.
Daily intake of Bio-Glucosamine+Chondroitin is a convenient way to provide your joints with some of the substances that are found naturally in healthy cartilage. The content of vitamin C supports your body and the biological processes that contribute to the mobility of your joints.
How to take Bio-Glucosamine+Chondroitin
Take the tablets with glass of water, preferably (but not necessarily) with a meal. The dosage is one tablet two times daily. You can also choose to take the whole day's ration at once. Do not take double dose if you forget a dose. Just continue with normal dosing.
Pregnancy and lactation
Due to the lack of adequate studies on glucosamine's safety when used during pregnancy and lactation, Bio-Glucosamine+Chondroitin is not recommended for pregnant or breastfeeding women.
About glucosamine
Glucosamine is a small water-soluble molecule (an amino-monosaccharide) which the body itself is able to produce. Glucosamine is included as a building block in the union of glycosaminoglycan and hyaluronic acid, both of which contribute to the construction of joint cartilage.
When to avoid glucosamine
If you are allergic (hypersensitive) to glucosamine or shellfish, you should not take glucosamine. The active substance is derived from shellfish.
Caution required
By impaired renal function and/or potassium-poor diet
By diabetes: Measure your blood sugar regularly when taking glucosamine
By asthma
Concomitant use of certain drugs, especially when using blood-thinning drugs (warfarin) and antibiotic-type tetracyclines
About collagen and healthy joints
What is collagen?
Collagen is a cross-linked protein in human tissue. Just like the iron mesh that reinforces concrete constructions, collagen provides elasticity and tensile strength, thereby offering useful support for e.g., collagen in joints.

Healthy joints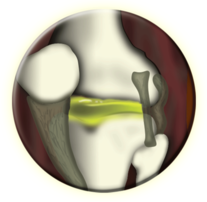 The cartilage in a young and healthy knee joint is intact so it can serve as a protective cushion that absorbs shock and impact. The best way to maintain healthy cartilage is by making sure to stimulate the joint through regular use. In fact, the repeated compression and decompression of cartilage tissue that happens when you use a joint is necessary in order to ensure that the supportive nutrients enter the cartilage. Cartilage has no blood supply and therefore depends on this so-called passive diffusion where nutrients are soaked up and waste products are squeezed out. These nutrients serve as building blocks in the upkeep of strong and elastic cartilage.
Healthy joints and cartilage are important for maintaining quality of life. The better your joints function, the easier it is for you to stay physically active and enjoy the different activities that help you stay youthful and fit.
Official claims
The European Food Safety Authority (EFSA) has evaluated the evidence behind vitamin C and has acknowledged the following claims:
Contributes to normal collagen formation for normal functioning of cartilage
Contributes to normal collagen formation for normal bone function
Contributes to normal collagen formation for normal teeth
Contributes to normal collagen formation for normal function of the blood vessels
Contributes to normal collagen formation for the normal function of gums
Contributes to normal collagen formation for the normal function of skin
Contributes to normal function of the immune system
Contributes to normal energy-yielding metabolism