The ideal antioxidant complex with SelenoPrecise
Optimized over 25 years of research
Pure, organically bound selenium yeast (SelenoPrecise), zinc and vitamins A, B6, C and E
Selenium and zinc supports the normal function of the immune system
Vitamin E contributes to the protection of cells against oxidative stress
Vitamin A helps the maintenance of normal skin and vision.
Vitamin C supports normal collagen formation for the normal function of bones, gums, teeth and cartilage
Vitamin B6 contributes to normal psycological function
Manufactured under Danish pharmaceutical control
Bio-Selenium+Zinc
Buy online here:
*National variations in composition, indications and product name may apply
See related categories
[Beauty & Vision|, Children & Pregnancy|, Immune System & Antioxidant|, Metabolism & Hormone|, Minerals|, Vitamin|]
Print
| 1 tablet contains | | | % RDA* |
| --- | --- | --- | --- |
| Selenium (SelenoPrecise) | 100 µg | | 182% |
| Zinc (gluconate) | 15 mg | | 150% |
| Vitamin A | 800 µg RE | | 100% |
| Vitamin B6 | 1,6 mg | | 143% |
| Vitamin C | 90 mg | | 113% |
| Vitamin E | 15 mg a-TE | | 125% |
* RDA: Recommended Daily Allowance
Product Facts
Directions
1 tablet daily, unless otherwise advised.
Preferably during / after a meal.
The dietary supplement is not for children under 3 years.
Do not exceed the recommended daily dosage.
Dietary supplements should not replace a varied diet.
A healthy lifestyle and a varied balanced diet are important for maintaining good health.
Storage
Dark, dry and at room temperature. Keep out of reach of young children.
Ingredients
Zinc gluconate (zinc), vitamin C, L-ascorbic acid (vitamin C), selenium enriched yeast (SelenoPrecise), bulking agent: microcristallene cellulose, DL-alpha-tocopheryl acetate, D-alfa-tocoferyl succinate (vitamin E), retinyl acetate (vitamin A), glazing agent: hydroxypropyl methylcellulose, talc, zein, strengthening agent: silicon dioxide, pyridoxine hydrochloride (vitamin B6), anticaking agent: magnesium salts of fatty acids, color: iron oxide, titanium dioxide.
* EP Patent No. 1 478 732 B1
What is Bio-Selenium+Zinc?
Bio-Selenium+Zinc tablets´ ingredients consist of: selenium, zinc, vitamin A, vitamin B6, vitamin C and vitamin E. The antioxidants in this unique complex that have been on the market for more than 25 years, supports, protects and complements each other, and their co-operative actions and high quality makes Bio-Selenium+Zinc the ideal antioxidant complex. Bio-Selenium+Zinc may also be used as an alternative to multi-vitamin preparations containing beta-carotene, which smokers may wish to avoid.
Contains SelenoPrecise®
Bio-Selenium+Zinc contains 100 micrograms of selenium in the form of Pharma Nord's patented organic and easily absorbable SelenoPrecise selenium yeast. SelenoPrecise contains 66% selenium-methionine and 34% various other forms of selenium, which corresponds to those we get from a diet rich in selenium. As much as 89% of the tablet's selenium is absorbed. Absorption and effect appears to be further increased when the selenium is combined with vitamin A, B6, C, E and zinc, wich are also organically-bound.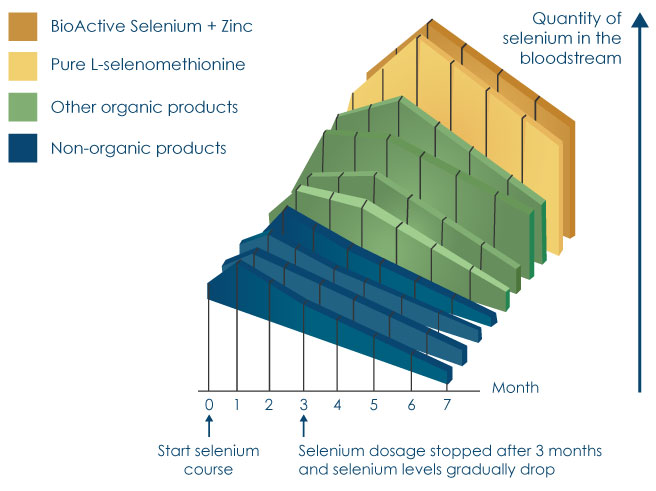 Pharma Nord's patented selenium yeast is absorbed better than other organic and inorganic selenium forms.
What are antioxidants and free radicals?
Antioxidants are substances that are able to neutralize free radicals which are chemically unstable molecules attacking everything around itself in a chain reaction. Both cell membranes and cell nuclei can be attacked whereby the cells are weakened and fatty acids are oxidized, that is, becoming rancid. We can not avoid free radicals because they are a natural consequence of our metabolism and are a consequence of, among others, stress. In some contexts, however, they also perform useful functions, but we continually need the protection of our cells, genetic material and fats against the unbridled mayhem of free radicals so that we can maintain the body's normal cellular functions as long as possible.
Antioxidants protect both against the free radicals from the body's own metabolism and from the free radicals generated in large quantities from the contaminated air, ozone and different types of radiation.
Official claims
The EU Food Safety Agency (EFSA) has evaluated the evidence behind the product's content of active ingredients and has acknowledged the following statements:

Selenium
Contributes to a normal, well-functioning immune defense
Contributes to normal functioning of the thyroid gland
Supports normal sperm cell production
Supports normal hair and nail growth
Contributes to protecting the body's cells
against free radical damage

Vitamin A
Contributes to normal cell division
Necessary for normal immune function
Supports normal skin and mucous membranes
Helps to maintain normal vision

Vitamin B6
Supports a normal and well-functioning immune defense
Necessary for normal metabolism
Necessary for a normal and well-functioning nervous system
Necessary for producing normal red blood cells
Part of the body's normal energy metabolism
Contributes to normal psyche
Part of the body's normal cysteine synthesis
Necessary for the body's hormonal balance
May help reduce fatigue and exhaustion

Vitamin C
Part of a normal and well-functioning immune defense
Contributes to normal functioning of the nervous system
Contributes to normal collagen synthesis
Part of the body's normal energy metabolism
Contributes to normal psyche
Contributes to revitalizing used E-vitamin in the body
Contributes to protecting the body's cells against free radical damage
Contributes to the absorption of non-heme iron (from fruit, vegetables, and grain products)
May help reduce fatigue and exhaustion

Vitamin E
Contributes to protecting the body's cells against free radical damage

Zinc
Part of normal DNA synthesis and cell division
Contributes to a normal and well-functioning immune defense
Supports normal fertility and reproduction
Contributes to normal cognition and learning skills
Part of a normal fatty acid metabolism
Part of a normal acid-base balance
Necessary for normal A-vitamin metabolism
Contributes to maintaining hair, nails, skin, and bones
Part of a normal protein synthesis in the body
Contributes to normal levels of testosterone in the body
Necessary for maintaining normal carbohydrate metabolism
Important for normal vision
Contributes to protecting the body's cells against free radical damage