Optimized highly bioavailable curcumin
Contributes to the maintenance of flexible joints
Optimized for maximum absorption and bioavailability
400 mg patented* curcumin extract in each capsule
25% curcuminoids
Gentle on the stomach
100% natural, suitable for vegetarians and vegans
Clinically proven and documented
*EU patent 1993365
Curcumin - Where to buy
Buy online in one of our webshops listed below:
*National variations in composition, indications and product name may apply
Print
| 1 capsule contains: | | | % RDA* |
| --- | --- | --- | --- |
| Curcumin extract | | 400 mg | not determined |
| - of which curcuminoids | | 100 mg | not determined |
* RDA = Recommended Dietary Allowance.
Product Facts
Dosage:
One capsule daily for adults and children aged 11 and older.
The recommended daily dose should not be exceeded.
Dietary supplements should not replace a varied diet and a healthy lifestyle.
Longvida® is a registered trademark of Verdure Sciences Inc., Patents US 9192644 & EP 1993365.
Content: 50 capsules = 25 g
Ingredients:
Longvida® Curcumin Extract
Emulsifier: Stearic Acid
Bulking agent: Maltodextrin
Capsule shell: Hydroxypropyl methyl cellulose
Emulsifier: Soy lecithin
Anti-caking agents: Silicon dioxide, Magnesium salts of fatty acid
Antioxidant: Fatty acid esters of ascorbic acid
Storage
Room temperature.
Not in direct sunlight.
Keep out of reach of children.
What is Curcumin Pharma Nord?
Curcumin Pharma Nord is a supplement with vegetable capsules that each contain 400 mg of granular extract of Turmeric root (Curcuma longa L), including 100 mg of the active antioxidant curcuminoids in a formulation that provides optimal bioavailability. Curcumin Pharma Nord is formulated as solid lipid curcumin particles with a curcumin in a free, active form that is easily absorbed.
Although Curcumin Pharma Nord is predominantly lipid-soluble the product does not have to be taken with meals.
As there are no animal ingredients in the preparation it is suitable for vegetarians and vegans.
In the United States, the curcumin found in Curcumin Pharma Nord is generally recognized as safe (self-affirmation of GRAS status).
What is Curcumin?
Curcuminoids are a group of active substances in turmeric root. Curcuminoids belong to the group of polyphenolic dyes which includes curcumin, among others. Curcumin is the primary curcuminoid in turmeric root. It is the most significant active plant substance and therefore the one that has been studied the most.
Curcumin with its characteristic orange color also belongs to the group of polyphenolic substances. In nature, these substances are formed by plants and microorganisms. An herb may produce these substances in order to protect it from being attacked by such things as pests, UV-radiation, and wounding.
Curcumin also contains herbal substances such as saponins, phytosterols, alkaloids, tannins, and starches. At the same time, some of these herbs are considered an important part of a healthy and varied diet.
Turmeric is probably best known as an essential ingredient in curry powder: It gives curry its characteristic yellowish color.
The Turmeric plant originated in India and South Asia. The plant is related to Ginger and Cardamom. It has lanceolate leaves and cream-colored flowers. It can reach a height of more than three feet (one meter). Turmeric root contains 2-5% curcumin, depending on where it has been cultivated.
Official claims
The European Food Safety Authority (EFSA) has evaluated the evidence behind curcumin and has acknowledged the following claims:
Helps maintain flexible joints
Related products
Bio-Fish Oil contains fish oil in a stable natural triglyceride form. Soft gelatin capsules made of fish gelatin. Also suitable for children.
---
Bio-Marine contains concentrated fish oil preparation predominantly with highly bio-available Omega 3 as free fatty acids. EPA and DHA with folic acid and vitamin B12.
---
Bio-Glucosamine+Chondroitin contributes to normal muscle function, bones and teeth.
---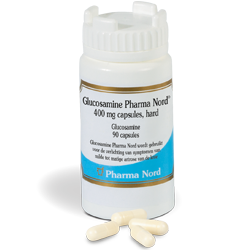 Glucosamine Pharma Nord: For symptoms connected with mild to moderate osteoarthritis.